The Sales Accelerator was introduced in GA about 14 months ago. Since then Microsoft has provided new features for this functionality and introduced some pretty cool stuff along. In this post, I will show some of these features and what is possible with these features. The Sales Accelerator makes you stay on top of your customers (lead/opportunities) and define a strategic sales process based on segments of your customers.
So, the Sales Accelerator is a tool in the Sales Insights toolbox (I like to compare these functionalities as tools, which is a part of a bigger toolbox). Anyway, the Sales Accelerator creates a worklist based on activities that have a due date so the Sales Responsible person would have a prioritized list to work with.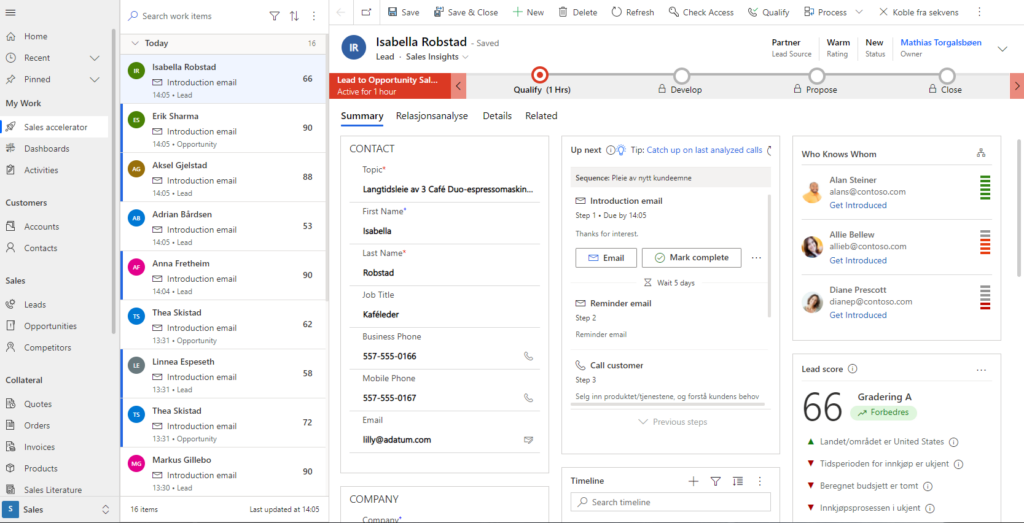 As we can see in the screenshot above, we have that list on the left side which includes all the records we got activities on. When you open one of the records you could see the forms load with even more information. Here I am using the Sales Insights form which contains information like predictive scoring, LinkedIn integration, and more. In the middle, we got the activity section which includes all the activities that are set for this record (sequence). This is the set of activities that the salesperson would work with, this is called sequences and could be modified or created based on what is best for your company.
The worklist
In the worklist, you are able to sort the records on different criteria, since Predictive Lead/Opportunity scoring is a part of Sales Insights you could also sort this list based on the predictive scoring.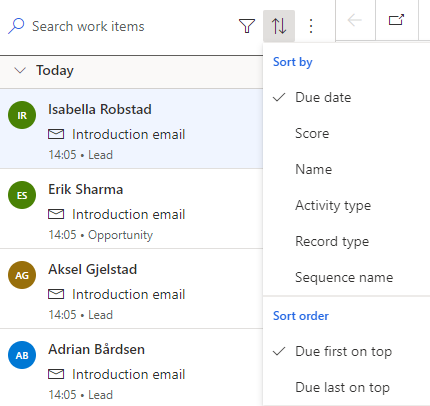 Sequences
Sequences are a defined process of activities to do when a lead is created. We could define which sequence to assign the lead based on segments. Below is a picture of a sequence and how to set up your own sequence.
As you can see you could create a defined way of selling or contacting the customer/lead. This is great because it makes the process less person-dependent and you could easily continue a job someone else has started. The customer also would recognize the company the same way as another customer (could be a friend or family member which going through the same process).
You could easily assign these sequences to a segment, as the title down below describes this sequence is for "Leads under 30 years".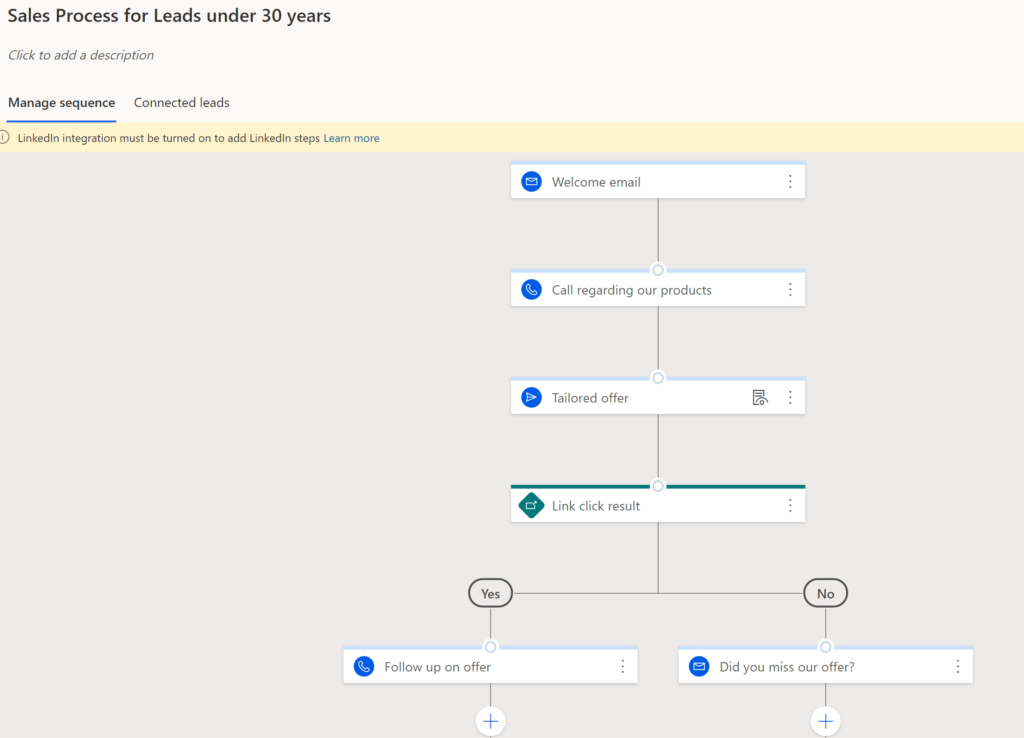 Potential gains of using the Sales Accelerator
The immediate gains we see using the Sales Accelerator is to achieve high-velocity sales since you have a set process of selling (based on best practices) and focus on the right segments.
It is easy to set up, and the maintenance is done by Microsoft. (To be honest, it was just a couple clicks after Sales Insights was installed).
You will create a more genuine customer experience, and since you could specify process based on segment it makes it even better.
When new sales people are joining your team, you could provide a much easier onboarding. This is because you already have the processes setup and the only thing you probably got to do is train the person in the Dynamics 365 user interface)
This tool makes each sale less person-dependent. This is something we see as a big win, you could never plan when a person is sick and you want the process to continue as usual to not loose your customer.
For more information regarding "Sales Accelerator please stay tuned on Microsoft docs, this is a functionality that has changed a lot lately so the Microsoft docs should contain the latest documentation regarding functionality.
https://docs.microsoft.com/en-us/dynamics365/sales/sales-accelerator-intro